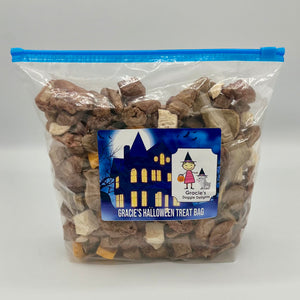 Halloween is just around the corner, and we're thrilled to bring back our special treat for you and your furry friends! 🎃
Do you remember the joy of sorting through your Halloween candy haul as a kid? Our Halloween Treat Bag is designed to capture that excitement with a delightful twist for your G-Dogs. Inside each bag, you'll find a 1lb mix of our freeze-dried, USDA inspected treats, including:
🐄 Beef Liver Delights
❤️ Chicken Heart Delights
🐔 Chicken Training Treats
❤️ Beef Heart Delights
🐔Chicken Breast Delights
🐑Lamb Heart Delights
❤️ Turkey Heart Delights
🦃 Turkey Gizzard Delights
🧀 Cheese Delights
❤️ Pork Heart Delights
🍤 Shrimp Delights
🐔 Chicken Tenderloin
🐮 Beef Lung Delights

Whether you plan to keep the bag handy by your front door for the Trick-or-Treaters with furry companions or want to treat your own G-Dog to a special Halloween surprise, our Halloween Treat Bag has got you covered.
But remember, it's available for a limited time only! Don't miss out on this opportunity to make Halloween extra special for both you and your pets.
Order your Halloween Treat Bag today before they vanish like a ghost 👻 in the night.
Wishing you a spooktacular Halloween filled with delicious treats and tail-wagging fun!