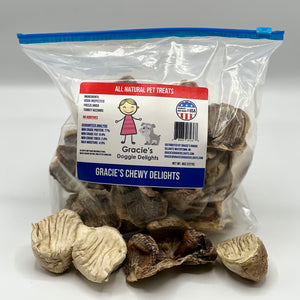 An all natural chew treat that will keep your G-Dog busy. These are the full version of our Freeze Dried Sliced Turkey Gizzard treats,. As always, they contain no additives or chemicals.  A perfect, boneless chew treat that will help keep your dog's teeth clean. Each 8oz bag contains 7-10 whole gizzard chew treats depending on weight.  
As with any chew treat, you should supervise when giving your dog these and keep plenty of fresh water on hand. 
The gizzard is a tremendous source of protein as this muscle meat is loaded with vitamins. Each treat is rich in Vitamin B-12, essential for brain function and forming red blood cells. The gizzards also have a lot of niacin for improving circulation and improving the nervous system. The Gizzard Delights also have antioxidants, produce energy and improve your dog's coat thanks to loads of riboflavin. 
Like all our treats, Gracie's Chewy Delights are freeze dried raw with no additives. The slow freeze drying process locks in the delicious flavor that pets crave with no grains, gluten, chemicals or preservatives. It's a raw food treat without the mess. They're the treats pets love and you'll love giving.  
No need to refrigerate.
Gracie's Original G-Dogs, Liam and Frodo, are also our Quality Control Specialists and Official Taste Testers!