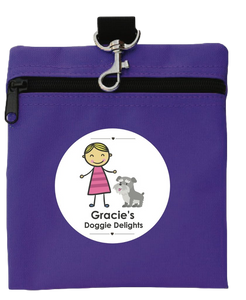 Introducing Gracie Doggie Delights Treat Tote: the perfect companion for your canine adventures! Lightweight and rugged, this tote ensures your pup's treats stay safe and secure, no matter where your journey takes you. Treat your pup to a memorable outdoor experience with Gracie Doggie Delights! 
Take your Doggie Delights on the go. Perfect for walks and Great for training to keep your hands free! Lightweight, conveniently clips on for easy access.  Carry your Gracie's Doggie Delights in style with this 5.5" wide x 6.75" tall rugged poly tote that zips tight with a metal top clip. 
Check out the Treat Tote in action as Gracie uses it to reward the three original G-Dogs, Liam, Frodo and Zoe with their favorites, the Chicken Heart Delights.